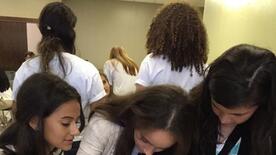 NEW HAVEN, CT - The Yale Ciencia Initiative, a collaboration between Yale University and the non-profit Ciencia Puerto Rico (CienciaPR), received a grant from the National Science Foundation (NSF) to encourage Puerto Rican students to explore, present, and implement scientific solutions to the challenges created by hurricanes Irma and Maria. The grant, amounting to $186,086 for one year, was one of 23 awarded by the federal agency to do research in Puerto Rico related to the recent natural disasters, and the only one in the field of education.
The project will train more than 40 middle school educators and principals to implement a series of project-based learning (PBL) science lessons that are relevant to students' lives in the aftermath of the hurricanes. Through the lessons students will identify how science can address pressing needs in their schools and communities, in relation to the availability of drinking water and changes to terrestrial ecosystems, among other issues.
The participating schools will receive the lessons, which are aligned with the standards of the Puerto Rico Department of Education (PRDE) and the Next Generation Science Standards, and all the materials necessary to implement them, which include the innovative paper microscope known as Foldscope. They will also receive support to present the results of the projects to their communities and disseminate them through the CienciaPR.org website, a platform that connects more than 8,500 scientists, students and educators in Puerto Rico and beyond.
According to Dr. Giovanna Guerrero-Medina, Director of the Yale Ciencia Initiative and Principal Investigator, "the project is designed to test effective educational practices after a major natural disaster. Through the lessons, we seek to transform adversity into a positive challenge by empowering students to be critical thinkers and problem solvers."
Evaluation of educational strategies
The investigators will not only train and offer tools to educators but will also be analyzing the feasibility of implementing these socially and culturally relevant PBL lessons to serve the whole student population after a natural disaster. The organization also seeks to evaluate the impact of these lessons on students' learning and attitudes towards science. In Puerto Rico, schools are used as shelters and support centers for communities at risk, which represents additional pressures for the education system during and after an emergency. This in turn affects the restoration of their educational functions. For many children, the trauma of the emergency is combined with the fact that they cannot reach their schools, that they are closed or not operating at full capacity, and their learning is interrupted.
"We want to know if PBL strategies, which helps students learn concepts in a more independent way and through problem-solving, can be an effective tool in the event of a disaster. What we learn from this study can also be of great value in other parts of the world," says Dr. Greetchen Díaz Muñoz, Director of Science Education Programs and Community Partnerships of CienciaPR and co-investigator in the project.
About the Yale Ciencia Initiative and Ciencia Puerto Rico
Located within Yale School of Medicine's Office for Diversity and Inclusion, the Yale Ciencia Initiative is an effort to expand access to scientific knowledge, experiences, and careers among communities or populations traditionally underrepresented in, or underserved by, the scientific enterprise. Through research, programs, and collaborations with Yale faculty, the Yale Ciencia Initiative aims to promote scholarship on how science networks can enhance the engagement and participation of people from diverse backgrounds in science and increase the participation of underrepresented groups in science within Yale and on a national level.
The Yale Ciencia Initiative is a collaboration between Yale and Ciencia Puerto Rico (CienciaPR, www.cienciapr.org), a global community of more than 8,500 scientists, students, educators, and allies who believe that science can empower individuals with the knowledge, capacity, and agency to improve their lives and society. CienciaPR leverages its rich and diverse community to democratize science and transform science education and career training. CienciaPR's efforts over the last decade have garnered multiple recognitions, including being named a Bright Spot for Hispanic STEM Education by the White House in 2015.